EASTER CHOCOLATE GIFT IDEAS
---
Looking for Easter gift ideas? Make someone's Easter eggs-traordinary with mouth-watering Cadbury Easter chocolate - the perfect way to sweeten their day! Choose from a huge range of Easter eggs, chocolate bunnies and other seasonal favourites - including the iconic Creme Eggs and Mini Eggs - available in a range of sizes and flavours.

Browse our full selection of Easter chocolate online to find cool Easter gifts for adults and kids alike. And with our quick next-day delivery service, you don't have to leave it up to the Easter Bunny to get your Easter chocolate here on time!
OUR BEST SELLING EASTER GIFTS
Need gift inspiration this Easter? Don't rely on the Easter Bunny to sort it out. We have a wide selection of Easter egg hampers to suit any taste and budget - all featuring a mouthwatering assortment of chocolate Easter eggs and other Cadbury favourites! Brimming with goodies, an Easter egg basket is the perfect present for a household or chocoholic friend or family member.

Find eggs-traodinary gift ideas for all the chocolate lovers on your list this Easter - including milk chocolate, dark chocolate and white chocolate goodies. Shop online for quick next-day delivery. It couldn't be easier!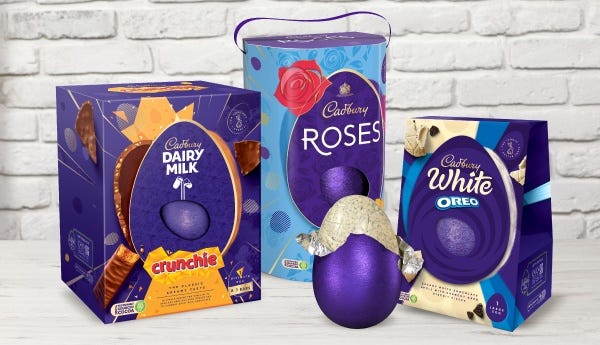 Let's face it - the highlight of Easter morning is cracking into that first delicious mouthful of your prized Cadbury chocolate Easter egg. Browse our massive selection of Cadbury Easter eggs to find all your favourites, from classic Wispa, Twirl and Creme Eggs, to Dairy Milk Buttons, Mini Eggs, Roses and more.

Treat the entire family to the Easter chocolate they love, with a wide range of small and large Easter eggs with a variety of flavours and fillings. Shop online for fast next-day delivery, and get your eggs delivered straight to your door.
PERSONALISED CHOCOLATES
---
Looking for an Easter gift with a personal touch? Give someone a treat as unique as they are with our range of personalised Cadbury Easter chocolate. Choose from favourites such as Milk Tray and Dairy Milk bars, then add your own Easter message and images.

Ordering a personalised Easter egg or chocolate gift online is quick and easy - simply type in your message, upload a photo, head to checkout and you're done! Even better, our next-day delivery service will make sure your gift arrives in plenty of time for Easter - even the Easter Bunny couldn't do better!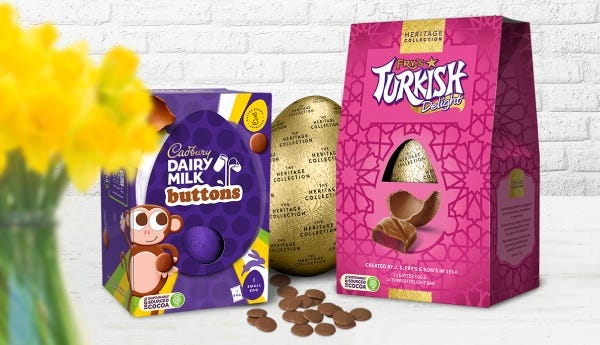 Sometimes the best things in life come in bite-sized packages. Our selection of small chocolate Easter eggs is the perfect example. Tuck them into the kids' Easter baskets or scatter them about for your Easter egg hunt - these tasty little eggs are the ideal treats for Easter snacking.

Browse our full range of baby-sized Easter eggs and order online with quick next-day delivery. Find lots of other Easter gift ideas for adults and children alike - from personalised chocolate bars, to Easter bunnies, hampers and more.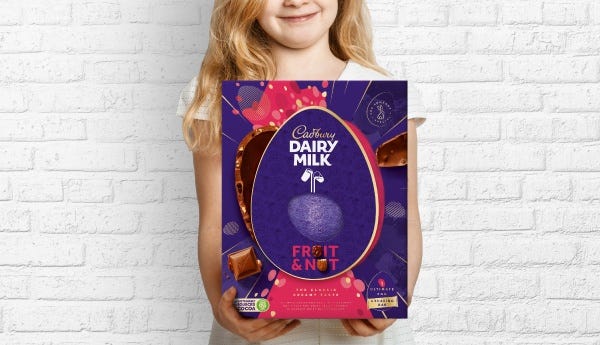 For those who really love their chocolate, a large Cadbury Easter egg is the ultimate eggs-travagance. Why not spoil that special someone with a big egg packed with their favourite Cadbury chocolate, to really sweeten their Easter morning?

Browse our full range of Easter eggs online to find a variety of flavours, sizes and fillings, including Dairy Milk, Creme Eggs and other popular Cadbury varieties. Even better, take advantage of our easy next-day delivery to get that giant egg sent straight to your door!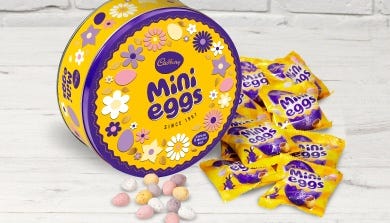 Cadbury Mini Eggs are an Easter favourite - small in size but packed full of chocolatey goodness. Browse our wide selection of Mini Eggs Easter gifts, from popular tubes and bags of these tasty small Easter eggs, to extravagant hampers, gift boxes, giant Easter eggs and more - all filled with Mini Eggs and other beloved Cadbury chocolate treats!

Shop our full range of Easter chocolate and gifts online, and enjoy easy next-day delivery - the perfect way to make someone's Easter eggs-tra special.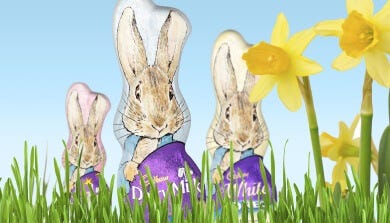 This Easter, treat some-bunny special to a delicious Cadbury chocolate rabbit - it's a springtime favourite sure to please young and old alike! Available in a range of sizes for every taste and budget, our Easter chocolate bunnies are a delight to nibble, from the tips of their ears to their fluffy chocolate tails.

Check out our Easter bunnies with eggs combo gifts, or our Easter bunny baskets if you're feeling indulgent. We also have large Easter rabbits and white chocolate ones too - to cater for all tastes (and appetites!).

Best of all, you can shop online for all your Easter gifts and enjoy fast next-day delivery - it couldn't be easier!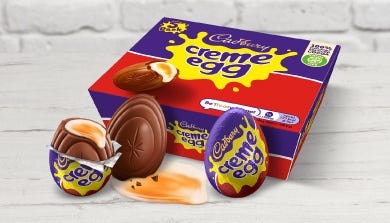 It isn't Easter without one or two (or a dozen) Creme Eggs… so why not indulge and nab some Creme Egg Easter eggs for all the family?

Filled with that oh-so-delightful centre, Creme Eggs are the gooey go-to for Easter, guaranteed to please all the family. They come in a range of sizes and price-points, making them suitable for all budgets and appetites.

For further inspiration, check our our full range of Cadbury Easter chocolate, featuring Easter hampers for kids, white chocolate eggs and Mini Eggs too. Simply order online by 4pm to receive your goodies the next day.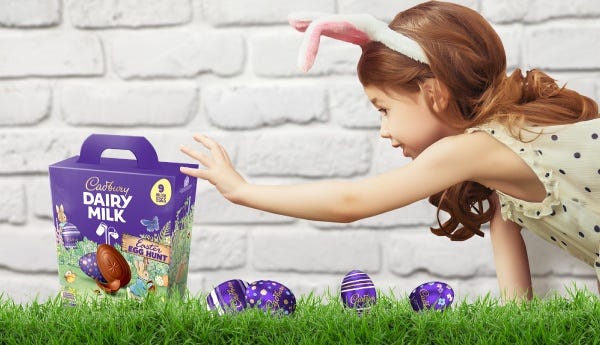 Cadbury Easter egg hunt chocolate is a great accompaniment to the Easter festivities. These gift boxes and packs are full to the brim with delicious egg-shaped treats that'll have your household feeling extremely egg-cited...

Choose from a regular sized pack to super sized, depending on the number of people joining your hunt. From Mini Eggs to white chocolate bunnies and gooey caramel delights, there are a whole host of different Cadbury goodies within our Easter egg hunt gift boxes.

Check out our extensive collection of Easter eggs and order online by 4pm to qualify for next-day delivery.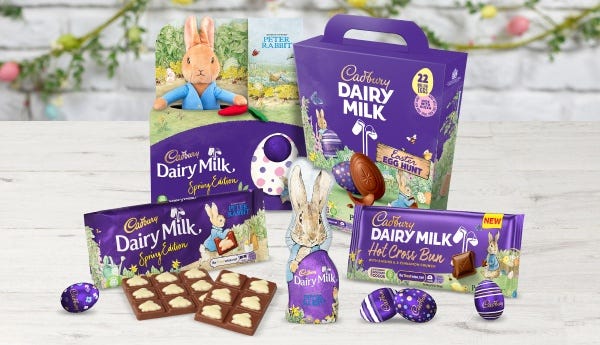 Celebrate Easter with the help of Peter Rabbit chocolate from Cadbury - the perfect prezzie for any Beatrix Potter fans.

Our Peter Rabbit gift ideas come in all shapes and sizes, making them suitable for a whole host of budgets and tastes. Choose from single bunnies to Easter eggs and hampers, and give some-bunny something special this Easter. You can even bulk buy Peter Rabbits if you're keen to spoil a group!

For even more Easter chocolate that'll have your recipients ""hopping"" with glee, check out our Easter bunny with eggs combo gifts and large bunnies too. Simply order by 4pm to qualify for next-day delivery.
OUR BEST SELLING EASTER GIFTS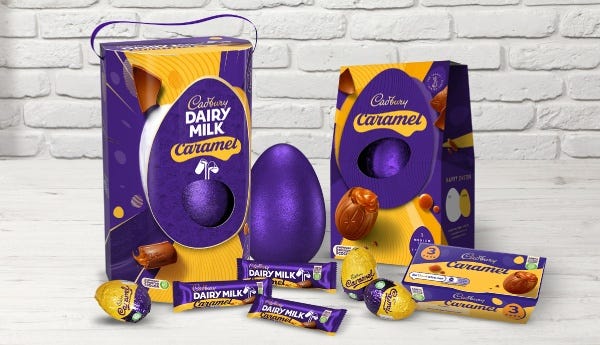 Know someone that goes crazy for caramel? Our delightful selection of caramel eggs may be the perfect Easter gift idea. From small eggs that you can gobble in one go, to large eggs filled with all sorts of caramel-themed treats, there are a whole host of options to choose from to make this Easter eggs-tra special.

You can even bulk buy your eggs if you're choosing a gift for a group or a team of coworkers - great if you're low on time and unsure what to get. There are also bunny and caramel egg gifts (giving you the best of both worlds!) and hampers chockful of caramel treats and other Cadbury delights.

Just order your caramel Easter egg with us by 4pm to qualify for next-day delivery. Why wait for the Easter Bunny when you can count on us?!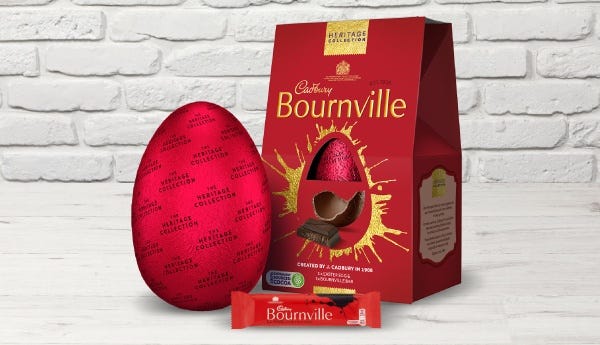 Rich and scrumptious, dark chocolate eggs from Cadbury are the ultimate Easter gift for any lovers of dark choc in your life. Choose from tasty Bournville treats as well as other Cadbury staples and give your recipient an eggs-traordinarily delicious Easter.

As well as dark chocolate eggs, we've got milk chocolate and white chocolate to choose from too (we know how particular people can be when it comes to their choccy!) in an assortment of eggs, hampers and bunnies.

Simply order your Easter chocolate with us by 4pm for next-day delivery - perfect for any last-minute gifting needs.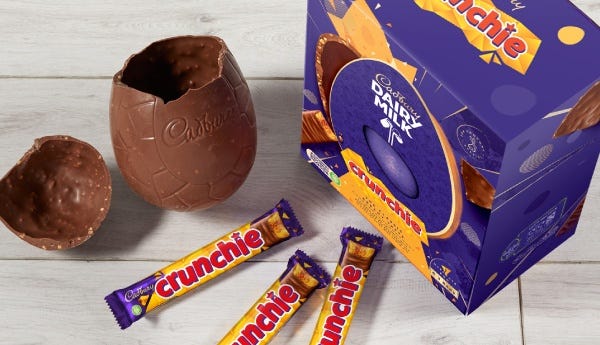 Easter and milk chocolate are an irresistible duo - so what better way to treat your nearest and dearest this Easter than with melt-in-the-mouth goodness from Cadbury?

Our milk chocolate Easter eggs come in all shapes and sizes - from bite-sized Buttons to mighty Mini Eggs boxes with small treats inside. You can also bulk buy your eggs if you're keen to splurge on a group of friends or team of coworkers, or even personalise your chocolate if you're wanting to go the extra mile.

Order your milk chocolate Easter eggs with Cadbury by 4pm for next-day delivery. Even the Easter bunny couldn't do better than that! For further inspiration, check out our selection of white chocolate and dark chocolate treats too.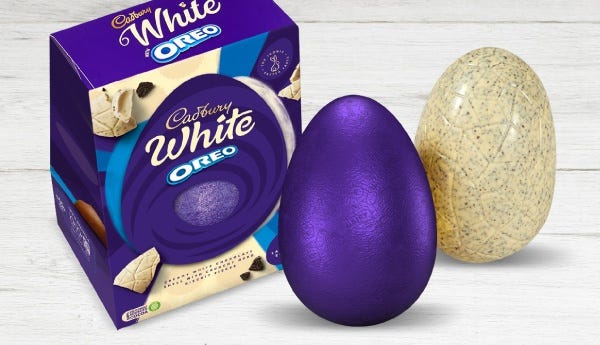 If you know someone that goes wild for white chocolate, our white chocolate eggs might be the perfect addition to their Easter celebrations this year.

Packed with just as much flavour as their milk and dark chocolate counterparts, white chocolate Easter eggs are a delicious and thoughtful gift idea for a loved one.

Explore our Easter chocolate range now and order your treats online by 4pm to receive them the very next day. The ultimate hassle-free gift-giving experience!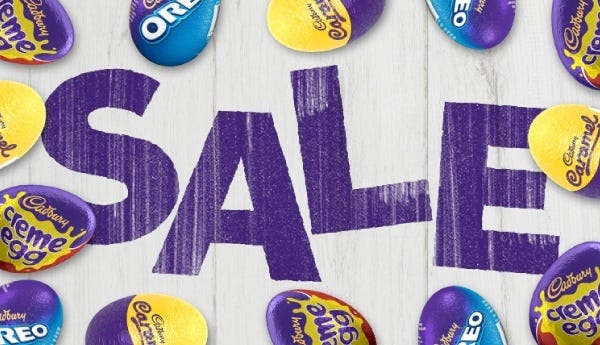 Take advantage of our fantastic special offers on mouthwatering Cadbury eggs and other Easter chocolate treats from Cadbury Gifts Direct. Shop online to find discount Easter eggs and offers, and stock up on all your Cadbury favourites - for an Easter that's egg-stra special!

Even better, if you order by 4pm you'll enjoy fast next-day delivery - so you won't even have to wait long for that chocolatey goodness to arrive...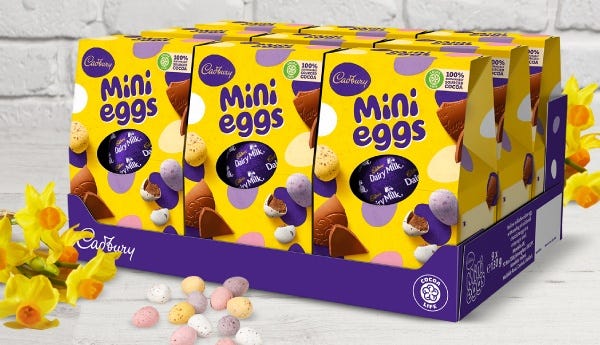 The perfect option if you're buying for a group of colleagues or friends, bulk buy Easter eggs from Cadbury make the gift-giving process seamless. Choose from our extensive Easter chocolate range and order your eggs in bulk - best of all, we offer next-day delivery if you place your order by 4pm.

What are you waiting for? Bring a smile to their faces this Easter with melt-in-the-mouth deliciousness from Cadbury. For more egg-inspired Easter gift ideas, take a look at our range of hampers and bunnies - they almost look too good to eat!