BEST EASTER HAMPER IDEAS 2022
---
With spring just around the corner and Easter only a hop, skip and jump away, now is the perfect time to start thinking about drool-worthy Easter chocolate hamper ideas for the kids, teens or adults in your life.

Whether you're looking for irresistible pre-made Easter hampers brimming with sweet treats, or you want to have a go at creating your own memorable masterpiece with a personalised Easter hamper, our useful guide is here to help add some cheer to the season and delight those closest to you. Discover all our chocolate Easter hamper ideas for 2022 below.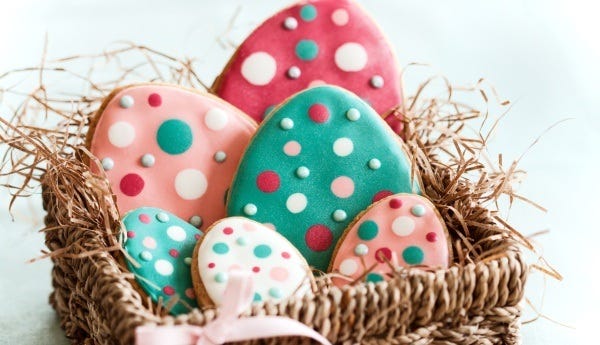 CHOCOLATE EASTER HAMPERS FOR KIDS AND ADULTS
When you picture Easter hampers, do toddlers and kids spring to mind? The good news is, we have an array of festive hamper ideas that are suitable for both kids and grown-ups alike, whether they're filled with chocolates, sweets, biscuits or cheese – the choice is up to you.

When it comes to the kids, chocolate Easter hampers are a guaranteed way to keep them happy during the holidays. You can combine their favourite chocolate eggs with sweets, as well as festive cakes and toys. Plus, hampers make a great prize if you're throwing an Easter party. For the adults in your life, hampers can help you show the foodies in your life that you care. Depending on their personality and interests, you could fill your Easter hamper with gourmet cheese and wine, craft beers, coffee, their favourite chocolates and biscuits, or Easter-themed sweets.

Scroll our full Easter chocolate collection for more delicious ideas.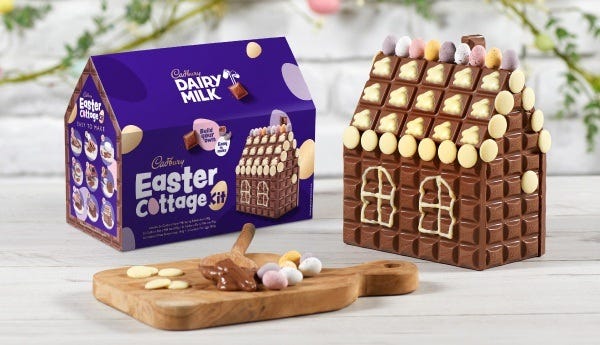 EASTER CHOCOLATE HAMPERS
Looking for a gift that contains enough chocolate for the family to graze on throughout the holidays? Look no further than our selection of delicious chocolate Easter hampers. With chocolate Easter eggs, chocolate bunnies and personalised options to pick from, there's something to please everyone in our collection.

We think Easter hampers are a great choice for chocolate lovers. Our beautiful wicker baskets are filled to the brim with everything from Mini Eggs tubes, to Dairy Milk Buttons, Creme Eggs, giant hollow chocolate eggs and much more. You can pick from sharing baskets for your friends and colleagues, as well as gift boxes that are perfect for Easter egg hunts, and the brand new Dairy Milk Easter Cottage Kit to build with little ones or simply to enjoy yourself.
PERSONALISED EASTER HAMPERS
Thinking of creating a chocolate Easter hamper for a loved one at home? Simply dress up your own wicker basket using decorations like ribbons and straw before placing their favourite treats inside. You can give them as one-off gifts to your colleagues, friends and family. No matter your budget, they're sure to be popular and are extremely thoughtful gifts.

Starting from scratch? Why not create your own chocolate Easter hamper from our pick 'n mix collection? Whether the special person in your life prefers light, milk or dark chocolate, we have a wealth of options to choose from. For the Creme Egg obsessive, why not create a egg-cellently themed hamper filled with classic Creme Eggs and Creme Egg Twisted bags? Plus, you can even throw in the Cadbury Creme Egg Cook Book! Or, provide an assortment of treats to choose from, with individual bars, pockets, hot chocolate powders, and sweets – we're talking everything from Cadbury chocolate Eclairs, to Maynards Bassetts Easter Jelly Babies Chicks, Liquorice Allsorts and many others.

The fun doesn't end there — why not make this a personalised Easter, with custom-made Cadbury's chocolate hampers and personalised chocolate bars for that extra special touch? We have a huge range of personalised gifts just waiting for your heartfelt message and the name of your friend, family or loved one! So go on, make this Easter super special, with personalised Easter hampers and gifts from Cadbury Gifts Direct.
OUR BEST SELLING EASTER GIFTS