EASTER ACTIVITIES IDEAS FOR KIDS AND ADULTS
Looking for fun Easter activity ideas to enjoy with the whole family over the April break? Aside from those all-important Easter egg hunts, we have a mix of indoor and outdoor activity ideas for the whole family to enjoy –everything from the classic egg and spoon race, to making delicious fondue out of chocolate eggs and crafting special gifts for the people you love.
Mini Egg guessing game – Perfect for the chocoholics in your family, simply fill a jar with Mini Eggs and ask each person to guess how many there are. The winner's prize? The entire jar, of course! What's not to love?
Egg and spoon race – It wouldn't be Easter without the age-old tradition of an egg and spoon race. Did you know it dates back to the 1800s? All you need are some hard-boiled eggs and a metal or wooden spoon for each player. Get ready, egg set, go! Looking for something sweeter? Why not use some Easter egg hunt chocolate from Cadbury in place of hard-boiled eggs?
Plant flowers – We can't think of a better way to celebrate Easter than planting new flowers. Opt for seasonal blooms, like daffodils and tulips, or have a go at growing your own vegetables – and make sure the kids get stuck in too.
Easter decorations – Post-Christmas blues? No problem. Ideal for unleashing the kids' creative side, encourage them to make Easter-themed decorations, which can be displayed around the house or garden – think homemade Easter egg baubles, pastel ribbons or tissue paper flowers.
Chocolate Easter egg fondue – There's no such thing as too many Easter eggs, but a great way to share the sweet stuff among your family and friends is to melt down those giant chocolate bunnies and eggs, and dip marshmallows and fruit into a creamy bowl of chocolate fondue. Delicious.
Easter gifts – Let your little ones' imaginations run wild by making some bunny ears or Easter bonnets for their friends or family members. Upcycle egg boxes and newspapers, as well as paper plates and any other recyclable items you may have in the house.
Pin the tail on bunny – A great game for the kids, simply put a blindfold on each child, put a paper rabbit's tail in their hand, and spin them around a few times before guiding them in the direction of a cut-out bunny secured to the wall. The child that places their tail closest to the bunny's hindquarters wins.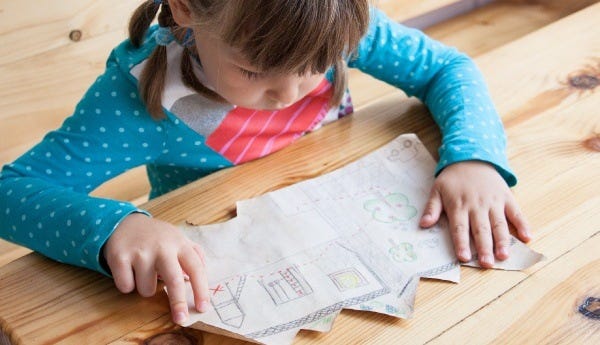 EASTER EGG HUNT IDEAS
Looking for some of the best Easter egg hunt ideas to make this year extra special? If you're planning an Easter party for the little ones, an Easter egg hunt is always a fun option and a guaranteed way to put a smile on their faces. No matter their age, kids will have a great time searching for those sweet treats and prizes, while you'll love seeing them reap the rewards of their hard work. Our favourite Easter egg hunt ideas for kids include:
Find your name – Instead of simply letting them find the eggs this year, turn up the heat on the challenge thermometer by only allowing the children to pick up eggs that match up with the letters in their name. Simply use a permanent marker pen to write individual letters on each egg, and let the games begin!
Nursery rhyme scavenger hunt – Before they discover the next egg, give them written clues that will lead them to their prize. You could prompt them to complete their favourite nursery rhymes, or lead them to different rooms in the house – perfect for improving their memory skills.
Treasure map – Create an Easter-themed treasure map with illustrated or written clues to help them navigate those hidden eggs.
Colour matching – Ideal for younger ones, you could assign each child a specific colour from a lucky dip and task them to return only with their chosen colour.
Browse our tasty range of chocolate eggs for Easter egg hunts here. You'll find all your favourite Cadbury brands in one handy place for fuss-free Easter activity planning, so you can avoid the shops and spend more time doing what you love — eating our delicious chocolate!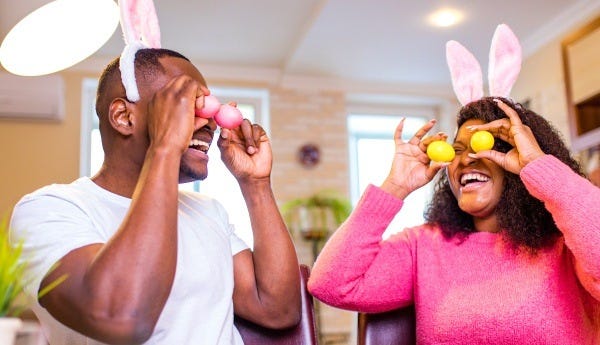 EASTER EGG HUNT IDEAS FOR ADULTS
When it comes to Easter parties, it shouldn't just be the kids who get to have all the fun and games. Why not switch things up this year and host an Easter egg hunt for adults only? If you're planning an Easter party for your friends or family, there are a number of ways for you to get creative with your prizes:
Fillable eggs – Instead of only rewarding your party guests with chocolate (although we do love this idea), why not fill up plastic eggs with mini beauty products, like hand cream, nail polish or a scented lip balm? We promise the surprise will be a big hit.
Set a time limit – Giving your friends a time limit to locate the hidden eggs is a great way to up the ante and practise their decision-making skills.
Couples Scavenger Hunt – Need some ideas for you and your partner at home? Why not hide items around your home for each other to find. You could even give each other clues to find them and make it into a race.
Truth or dare – Let the games begin by filling Easter eggs with written truth or dare cards.
Explore large and small chocolate eggs for your Easter egg hunt and find the perfect chocolate accompaniment to your holiday activity, with Easter hunt ideas and goodies from Cadbury.

EASTER CHOCOLATE GIFTS
Throwing an Easter party? Scroll your way to a delicious spread of sweet treats in our Easter chocolate collection. Pick from a wide range of small and large chocolate Easter eggs, as well as chocolate bunnies and chicks in a range of sizes to suit your guests. We've also stocked up on seasonal favourites, including our classic Mini Eggs and gooey Creme Eggs – our sharing bags make perfect basket fillers, FYI.

In need of some party food ideas? Look no further than our Cadbury Creme Egg cook book for mouth-watering recipes that all your guests will love. If you're searching for the perfect Easter present, take a look at our Easter gifts for a range of chocolate hampers and personalised gifts.
OUR BEST SELLING EASTER GIFTS