BEST EASTER EGG CHOCOLATE GIFT IDEAS
---
Hunting for the best Easter chocolate gift ideas? We think giant chocolate eggs, indulgent chocolate Easter hampers and personalised Easter chocolate gifts are the best way to celebrate this mouth-watering holiday, so we've come up with a few different ways to satisfy everyone's chocolate craving.

Whether you want to surprise your little ones with an Easter egg hunt, are browsing for your partner's favourite chocolate Easter egg, or want to treat your nearest and dearest to one of our special chocolate hampers, our guide has you covered. Keep scrolling to discover some delicious Easter chocolate gift ideas for 2021.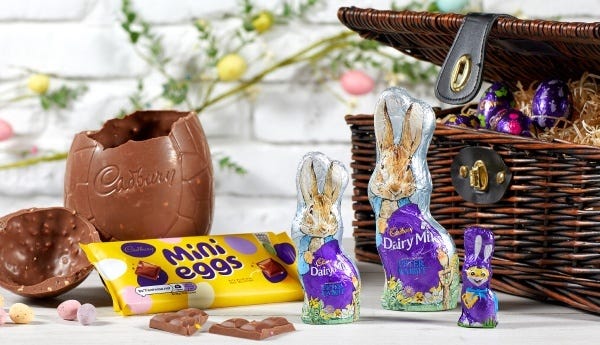 EASTER CHOCOLATE HAMPERS
With so many types of chocolates to choose from, it can be hard to know where to start when picking out the perfect Easter gift. That's why our Easter chocolate hampers are here to help you out. There are endless options to suit the whole family, as well as friends and colleagues.

Whether the special person in your life is a fan of milk, dark or white chocolate, impress them with an Easter chocolate hamper packed with a huge selection of delicious delights. From our limited-edition Easter egg hunt packs to our ultimate Easter baskets, we've got something to let them know how much they mean to you this Easter.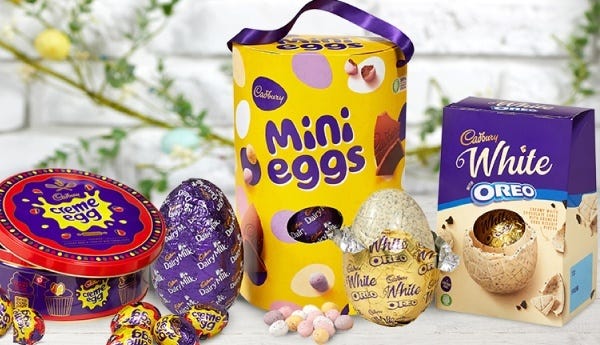 CHOCOLATE EASTER EGGS
Let's face it, there's nothing better than spending quality time with friends and family while cracking into a chocolate egg – and it wouldn't be Easter without our delicious range of chocolate Easter eggs. We've also got chocolate Easter bunnies to delight both kids and adults alike.

Scrolling for your little ones? Look no further than our small chocolate Easter eggs selection. Whether you're planning an Easter egg hunt in the garden, or want to surprise them with endless festive treats, our range includes over a dozen options for them to tuck into. Choose from Mini Eggs pocket packs, Creme Egg bags, Dairy Milk Mini Oreo Eggs and much more. Why not surprise them with one of our extra special Dairy Milk Popping Candy Peter Rabbit Bunnies? Or, try our deliciously fun Dairy Milk Easter Cottage kit, which includes Dairy Milk Bars, Mini Eggs and Cadbury white buttons. Build it yourself or share the fun with others.

Our large chocolate Easter eggs make the perfect Easter chocolate gift ideas for the chocoholics in your life. They can look forward to unwrapping a giant hollow chocolate egg as well as their favourite treats – think everything from Mini Eggs, to Creme Eggs, Twirls, Flakes and many more. Try something new with our Ultimate Crunchie Bits Egg or for dark chocolate lovers, pick up a Bourneville Orange Easter Egg that also comes with a retro matching Bourneville tea towel!

PERSONALISED EASTER GIFT IDEAS
When it comes to indulgent sweet treats, our personalised Easter chocolate gifts have it in the bag. Want to spoil them with a Dairy Milk chocolate bar or box? Make it extra special and let them know how much you care by adding your own personal message to the front sleeve.

Do you know somebody who loves Mini Eggs? If you're nodding, scroll no further than our Cadbury Mini Eggs range, which includes Mini Egg tins, tubes, pockets, baskets, Easter eggs and most excitingly, the brand new Mini Egg Chocolate Bar – a delicious Cadbury milk chocolate bar filled with micro Mini Egg pieces.

Can't decide on one gift? No problem! Our pick 'n mix collection allows you to combine chocolate bags with boxes, bars, sweets and drinks – perfect for satisfying every budget and chocolate craving this Easter holiday.

Need more inspiration? Discover our best Easter chocolate range online and get ready to celebrate the most scrumptious holiday of the year.
OUR BEST SELLING EASTER GIFTS