CHRISTMAS STOCKING FILLER IDEAS
---
Unpacking your Christmas stocking to find out what treats are inside has always been one of the highlights of Christmas morning. No matter what age you are, it's still a delight to dig right down to the toe in pursuit of those wonderful stocking fillers – from chocolates and sweets, to small, thoughtful gifts and quirky surprises.

As well as receiving them, it's just as fun to fill stockings for your family, friends or even work colleagues. The contents don't have to be elaborate or expensive – just the fact that you took the time to assemble some treats you knew they'd enjoy counts for a lot.

Need some inspiration for stocking fillers? We've put together some great ideas for every person on your list, from your partner to your kids. Read on to find ideas for Christmas stocking fillers for kids and grown-ups, plus all different tastes and budgets…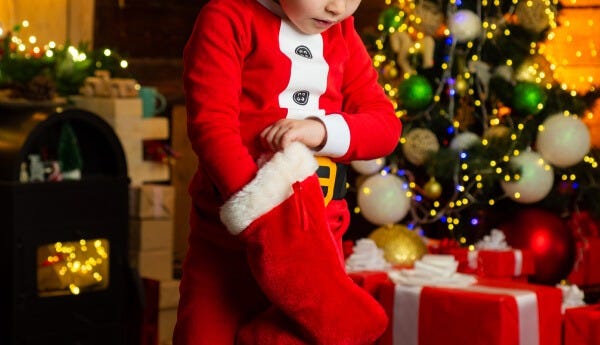 STOCKING FILLERS FOR KIDS
Presents don't have to be huge to bring a smile to their faces. Kids love the thrill of unpacking a stocking stuffed with surprises. Here are some ideas for fun stocking fillers they'll enjoy unwrapping on Christmas morning:
Yo-yos, Rubik's cubes or other small toys

Travel-sized versions of their favourite board games

Stickers, glitter glue or craft supplies

Puzzles or storybooks

Vouchers for music downloads

Christmas socks, earrings or hair accessories

Comics or graphic novels

Cinema vouchers

Colouring books and crayons

Bath bombs and smellies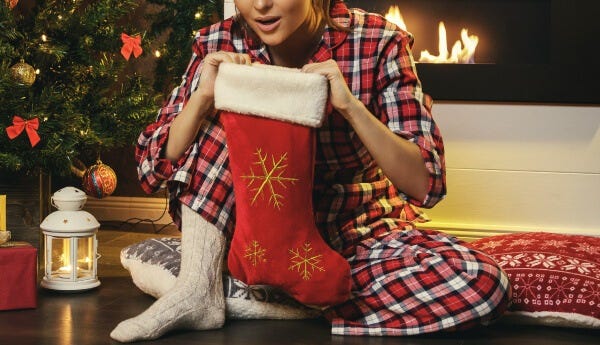 STOCKING FILLERS FOR ADULTS
Whether it's your husband or wife, mum or dad, sibling, partner or best friend, any grown-up on your list is sure to appreciate a thoughtfully filled stocking just as much as the children. Here are a few ideas for stocking stuffers they'll love:
Small packs of festive teas or coffee

Jewellery or cufflinks

Sudoku or crossword puzzle books

Cool stationery

Matching hat and gloves or mittens

Face masks, beard oil or other personal care products

Miniature bottles of whisky, gin or other drinks

Tickets for an upcoming gig, play or exhibition

Any small item related to a favourite hobby – think guitar picks, golf balls, packs of plant seed, balls of yarn, etc.
CHOCOLATE FOR YOUR STOCKING
---
Of course, the highlight of any stocking is the tempting selection of chocolate and sweets you get to snack on before your roast dinner – Christmas is the perfect time to indulge, after all! From the ever-popular candy canes to chocolate Santas, snowmen and more, there are endless options to sweeten that stocking.

For example, choose a

Christmas selection box

packed with Cadbury favourites and share them out between your stockings, or treat the little ones in your life to a cute

toy and chocolate gift set

. Tubs of Cadbury

Roses

or Heroes are Christmas classics and perfect for scattering into stockings, or spoil them with their own

Toblerone Christmas bar

. There really is something for every taste!
PREPARE FOR CHRISTMAS WITH THESE STOCKING FILLER IDEAS
Stuffing stockings for family and friends is one of the most exciting parts of prepping for the festive season!

Looking for more Christmas gift inspiration? Get ideas for Christmas hampers, advent calendars and more from Cadbury Gifts Direct.
OUR BEST SELLING CHOCOLATE STOCKING FILLERS