FUN & FESTIVE CHRISTMAS TREE DECORATIONS IDEAS
---
As the highlight of your festive decorations, a Christmas tree offers a brilliant opportunity not only to spread some seasonal cheer, but also to show off your individual taste.

Some people love a themed Christmas tree, with matching baubles and a carefully chosen colour scheme; others like the haphazard charm of mismatched ornaments handed down over generations, with handmade paper chains and other quirky touches.

Whatever your preference, there are plenty of options when it comes to decorating your Christmas tree. We've rounded up some great ideas for Christmas tree decorations to help you get started – read on for lots of festive inspiration, including how you can incorporate your favourite chocolate treats into your tree design…
DECORATING YOUR CHRISTMAS TREE: GETTING STARTED
Maybe you love the fresh scent of a real Christmas tree; or, perhaps you'd rather go with the mess-free ease of the artificial variety. Whichever you prefer, Christmas trees come in a wide range of shapes, sizes and even colours, so you can select an option that suits your available space and décor.

For a large room with a high ceiling, you may want a Christmas tree that's tall, full and laden with garlands and other decorations, with lots of space for gifts and hampers underneath; but for a small flat with limited floor space, a mini tree with a few delicate, carefully chosen baubles will be easier to tuck into a corner or stand on a tabletop.

Once you've picked out your perfect tree, you can start thinking about how to decorate it. What kind of colours give you a Christmassy feeling – or what kind of mood do you want to create? Do you love the classic red, green and gold of a traditional Christmas colour scheme, or are you keen to put a unique stamp on the holiday with unexpected shades and an unconventional theme?

Perhaps you associate Christmas with bright colours, glitz and glam; for others, the season is about serenity, calm, and the soothing neutral hues of a peaceful winter's day. Once you know what kind of feeling you want, you can decide on a theme or start picking out individual decorations for your Christmas tree.
CHRISTMAS TREE THEME INSPIRATION
Adopt one of these popular themed Christmas tree ideas or adapt it to suit your personal style. You don't have to go too matchy-matchy with your theme, but having a style in mind can provide a useful starting point for choosing decorations.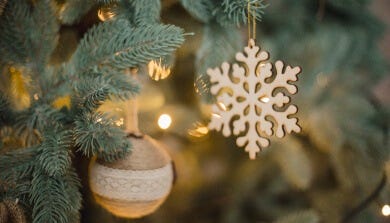 SCANDINAVIAN
Keep the focus on your tree's lush greenery with this simple, nature-inspired take on Christmas tree décor. Think white lights, rustic wooden ornaments, subtle metallic elements, hints of faux fur and calming, neutral colours.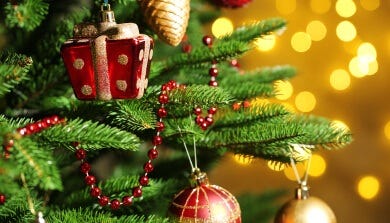 VINTAGE GLAM
Go for retro appeal with Christmas tree decorations that harken back to an earlier time. Think classic round bells in rich jewel tones, from ruby red and emerald green to fuchsia, deep blue, and of course, dashes of silver and gold. Add delicate glass and metal baubles with a vintage sheen and traditional beaded garlands for a dose of glittering nostalgia.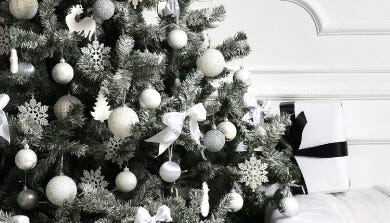 CHIC MONOCHROME
In recent years, black and white Christmas trees have gained in popularity. These striking designs are ideal if you love a clean, minimalist interior. Think white snowflakes, icicles and crisp white ornaments on rich black branches, or subtle touches of cream, silver and gold against frosty white needles.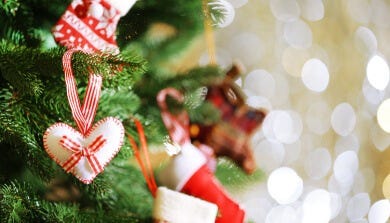 COUNTRY CHARM
Give your Christmas tree a cosy spin with cute, country-inspired decorations. Trim the tree with burlap ribbons, plaid or gingham bows, frosted pinecones and wildlife-themed ornaments to create an adorable woodland feel.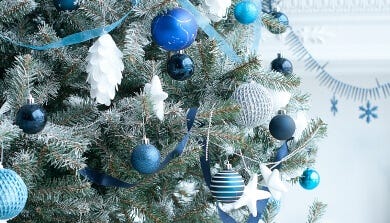 NIGHT SKY
For a theme that's rich-looking and elegant but totally unconventional, choose Christmas tree decorations in colours inspired by the night sky. Think ribbons and bows in deep navy and gold, plus star-shaped ornaments and subtle lights that twinkle like stars. Don't forget your North Star tree topper!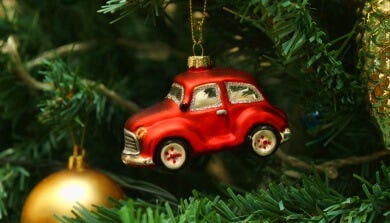 QUIRKY AND COOL
Of course, you can also create your own theme based on your interests. Love cats, cars, golf or robots? Collect ornaments that reflect your theme and design a Christmas tree that's an homage to your most-loved things. Or, choose a favourite colour, holiday destination or historical era, and use this as inspiration for your tree. Imagine how striking your tree would look all dressed in pink, adorned in seashells, or outfitted like a Victorian toy shop!

OTHER IDEAS FOR CHRISTMAS TREE DECORATIONS
While there's a huge array of Christmas tree baubles, lights and ornaments available in all the major shops, you can also pick up unique pieces at craft fairs and online marketplaces. Handmade, personalised decorations also make ideal stocking fillers for all ages.

If you're working with a limited budget, there are also lots of alternative Christmas tree decorations that will make a big impact without breaking the bank. For example, consider these fun, affordable options:
Vintage Christmas cards, cut into shapes and hung with colourful ribbon

Candy canes, lollipops and other sweets – or try Cadbury chocolate Christmas tree decorations for an extra decadent touch

Homemade bows made with inexpensive ribbon, or traditional paper or popcorn chains, which are all great Christmas craft projects to get the kids in the festive spirit

Artificial poinsettias and other red and white blooms

Simple white lights against a rich, green tree – ideal for the super minimalist
Taking a DIY approach means your tree will definitely stand out from the crowd! But no matter what kind of look you choose for your Christmas tree, make sure you take the time to enjoy the decorating process – it's a fantastic tradition, and one of the best ways to get in the Christmas spirit.
GET YOUR CHRISTMAS TREE DECORATION IDEAS FLOWING
What's great about Christmas tree decorations are that they are totally unique to every family. Your decor could be beautiful and traditional, or full of fun baubles handmade by the kids. It could even feature mini bags of Snow Balls hanging from the tree's branches for when the relatives come round for dinner, or chocolate Santas nestled within the pine needles!

Ready to start your countdown to Christmas? Get ideas for fun Christmas advent calendars.
OUR BEST SELLING CHRISTMAS CHOCOLATE