MOTHER'S DAY 2021: FUN-FILLED ACTIVITY IDEAS FROM CADBURY GIFTS
---
Although Mother's Day will look slightly different this year, that doesn't mean to say the festivities need to be put on hold. Mums deserve to be spoiled, and there are still plenty of ways to celebrate Mother's Day in lockdown.

Whether you're pampering Mum in person or celebrating from a distance this year, we've put together some ideas for Mother's Day activities below – complete with our top picks for melt-in-the-mouth goodies to accompany.
CELEBRATING IN PERSON: MOTHER'S DAY ACTIVITIES AT HOME
If you're able to see Mum on the big day, you might be racking your brains for ideas on how to turn a day at home into something a little more magical. You may be surprised to know that even everyday activities like watching movies and going for walks can be jazzed up to seem that little bit extra special.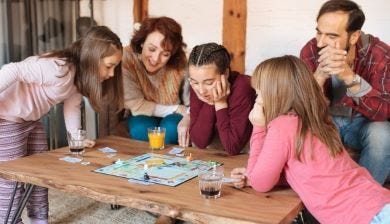 PLAY A MOTHER'S DAY GAME
Mother's Day games are a great way to inject some fun into the atmosphere. Dig out old board games lurking in the attic and take a trip down memory lane (something Mum will no doubt appreciate!) by playing as a family. To make things even more interesting, bring out that competitive spirit by playing for chocolatey treats!

Alternatively, use an online platform to craft your own game or quiz – this is also a great option if you have other family that are keen to play but can't be there in person.

Guessing game apps are a real crowd-pleaser too. Participants have to describe the thing or person on the mobile phone screen within a certain amount of time. Easy and fun, these types of digital games are perfect if you've exhausted your board game selection. We reckon you'll be rolling around on the floor in laughter in no time at all…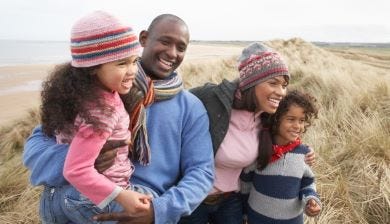 HEAD OUT FOR A STROLL
Walks and leisurely strolls through parks and woodlands can be a great Mother's Day activity idea, allowing the family to bond whilst getting some exercise. Make a point of walking through one of Mum's favourite places and take a hamper with some bubbly so you can have a bite to eat midway through your walk – this will make the outing feel even more special!

If Mum's a fitness enthusiast, you could even turn the stroll into a jog. Arrange for another member of the family to meet you with a picnic basket at the end of your run, and then head off jogging with Mum before settling down to munch on some nibbles with the rest of your household.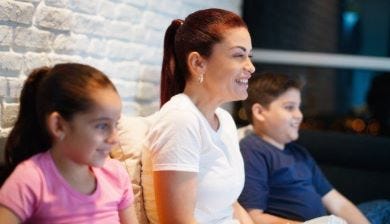 SETTLE DOWN FOR A MOTHER'S DAY MOVIE NIGHT
A Mother's Day movie night is the perfect excuse to bed down on the couch with a fluffy blanket and heaps of choccies. (Best of all, it won't take you an hour to settle on a film – this time, Mum decides!)

Convert the living room into your own private cinema to make this Mother's Day activity as special as possible. Prepare boxes of popcorn, a few drinks and a hamper filled with Mum's favourite snacks and treats. Then, draw the curtains, add rows of fairy lights to give off a cosy atmosphere and set a time for the movie to start.

Welcome Mum into the lounge with a glass of bubbly and her favourite spot on the sofa (we all have one!) to make her feel thoroughly spoiled.
CELEBRATING AT A DISTANCE: VIRTUAL MOTHER'S DAY ACTIVITIES
There are still plenty of ways to pamper Mum even if lockdown or quarantine prevent you from visiting her in person. It may not be exactly what you'd envisaged for Mother's Day 2021, but that doesn't mean to say a socially distanced Mother's Day can't be special.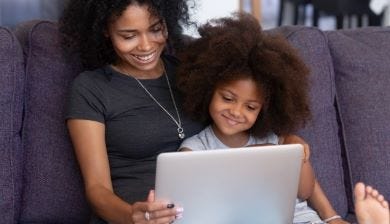 CREATE A VIRTUAL MOTHER'S DAY QUIZ
A virtual quiz is a great way to bring the family together, no matter where in the country (or world!) you all are – and to make Mum feel thoroughly spoiled, why not make the quiz all about her?

Structure the questions around things she's said or done throughout the years to find out who knows her best. You could assign a theme to each round – ranging from Mum's memorable embarrassing moments to her favourite songs, food or films. You'll not only get a few giggles out of her, but the time and effort taken to put together the quiz will show her just how much you care.

Once you've decided on questions, assign a quizmaster and set a time for the quiz to be held via video call. Log on with heaps of sweets and chocolate in tow and make Mum feel magical with this thoughtful Mother's Day activity idea.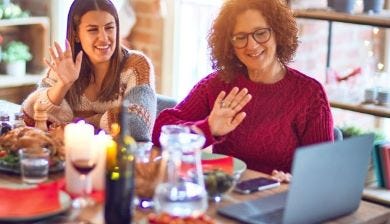 HOST A VIRTUAL MOTHER'S DAY MEAL
In previous years, many of us will have spent Mother's Day gobbling up all sorts of fanciful treats at Mum's favourite restaurant. But with this year looking a trifle different, we'll need to get a little more creative.

In fact, the magic of a meal with Mum doesn't have to be kicked to the curb at all – not when plenty of apps and websites offer the option to deliver their dishes directly to her door. Send her a lavish surprise takeaway and then settle down to eat together via video call. Unexpected and delicious, this is the perfect way to make Mum feel utterly spoiled.

Alternatively, send her the ingredients to a particular dish and set up a 'virtual bake-along' via video call to watch each other whip up the meal – a great excuse to spend some quality time together and have a giggle or two.

And if you're looking for ideas on what to make, our Crème Egg Cookbook has some egg-cellent desserts you and Mum might like to have a crack at.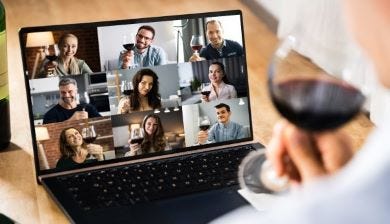 ATTEND A VIRTUAL MOTHER'S DAY EVENT
With plenty of companies offering virtual events in everything from brunching to wine tasting and drawing, a digital event could be the perfect Mother's Day activity idea!

Best of all, by attending a session led by an expert in their field, it takes away some of the pressure on you whilst still making for a wholesome and thoughtful experience. With plenty of options to choose from, it's worth picking something you know Mum has expressed an interest in before – or even something you know she'd like but has yet to try.

Browse online to see what's available, and get booking now as spaces are often limited.
OUR BEST SELLING MOTHER'S DAY GIFTS