SECRET SANTA SHOP GIFTS GIFTS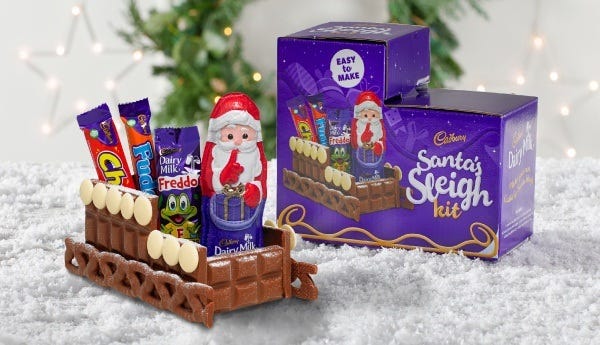 Everyone deserves something a little special at Christmas time, and at Cadbury Gifts, we know that better than anyone.

That's why you'll find our Secret Santa gift ideas are deliciously heartfelt. We have presents for her, for him and for colleagues at a range of different price points - from Secret Santa gifts under £5 to those that are under £20.

So if you're tasked with finding a thoughtful Secret Santa gift, look no further! We've got all the melt-in-the-mouth goodies you'll need to ensure your recipient is as jolly as ever this festive season.

Choose from creamy chocolate bars to scrumptious selection boxes and wholesome hampers. We're confident you'll find the perfect Secret Santa idea below.

Check out the rest of our Christmas gifts range and order your goodies online by 4pm for next-day delivery.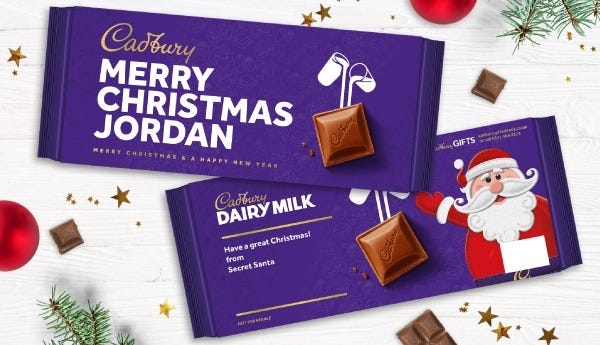 Pick the perfect present with our range of personalised Secret Santa gifts. These are a great option for anyone looking for something a little extra special and heartfelt this year.

Choose a delicious bar or box of chocolate and add a personalised message and photo to the sleeve. What a treat for your recipient!

Depending on your budget, you can personalise a range of different sized products too. Check out our other mouth-watering gifts for him and for her and order online by 4pm for next-day delivery. Our hassle-free delivery service is what makes our goodies extra sweet.
Looking for a Secret Santa gift for her? Cadbury Gifts have got you covered. Our Secret Santa gift ideas for her come in a range of shapes and sizes and cater for big or little budgets and appetites - from gobble-in-one-go bars to selection boxes she'll want to savour.
We know a thing or two about gifting - and nothing says Merry Christmas better than delicious chocolate.

So, if you're looking for a Secret Santa gift for him, why not explore our mouth-watering and extensive product range? We've got Secret Santa gifts that are under £5, all the way up to under £20. You can also personalise your Secret Santa prezzie, or push the boat out with a wine and beer basket.
OUR BEST SELLING CHRISTMAS GIFTS

Figuring out the right presents for everybody can feel like a minefield - but when it comes to the little ones, thankfully, they're easier to please. Treat them to something magical this Christmas with a Secret Santa gift for kids from Cadbury.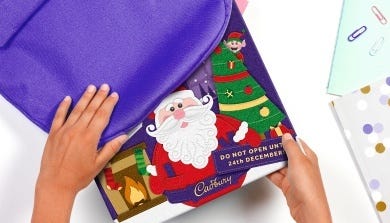 Tasked with finding a Secret Santa gift for a teen? Look no further! Cadbury treats are the ultimate crowd-pleaser... because, well, who doesn't like chocolate?!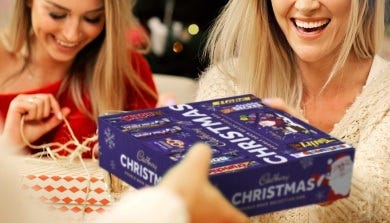 If you're in need of Secret Santa ideas for friends, look no further! At Cadbury Gifts, we have a range of Secret Santa prezzies for your pals - comprised of scrumptious chocolate bars, selection boxes and hampers.
Secret Santa gift giving can feel like a minefield - especially when tasked with buying for someone you don't know too well!

Luckily, our Secret Santa gifts for teachers and students are guaranteed crowd-pleasers. Choose from a range of melt-in-the-mouth goodies, including household favourites like Dairy Milk, as well as the latest novelty festive products like Santa's Sleigh Kits and taste bud-tingling gingerbread bars.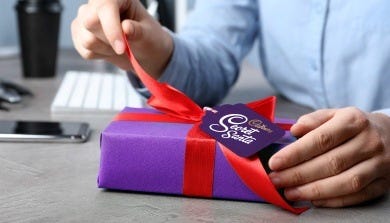 Stuck for ideas on what to buy for the work Secret Santa? Have a browse of our sensational prezzies here.

These chocolate Secret Santa gifts are perfect for a boss or colleague. With many of us away from the office and working from home this year, it's all the more important to treat your coworkers to something sweet.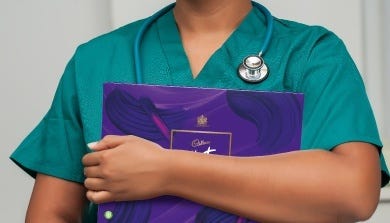 The festive season provides the perfect time to celebrate your nearest and dearest - and with this year looking a trifle different to previous ones, it's more important now than ever to bring a little sparkle back into the festivities.

Our range of Secret Santa gifts for nurses and carers are the perfect present to say thank you. Ranging from chocolate bars to hampers, you can go as little or as large as you like.
From Giant Freddos to chocolatey Cottage Kits, you'll find all the inspiration you need here with our Secret Santa chocolate shop.

It doesn't matter if you're buying for him or trying to find the perfect gift for her, there are plenty of budget-friendly chocolate Secret Santa gifts here to satisfy a range of tastes.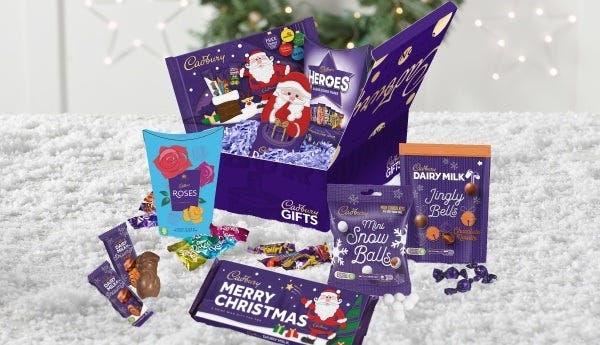 'Tis the season to… spoil your loved ones! If you're doing Secret Santa this year and want to make an impression, why not go for a sensational Secret Santa hamper from Cadbury?

Our delicious Secret Santa hampers come packed with all your household favourites, including Heroes, Freddo bars and Roses too. Great for sharing (or not!), they're the perfect gift for a family or couple. We can't promise they won't gobble all the contents up in one go... but then that's half the fun, right?!